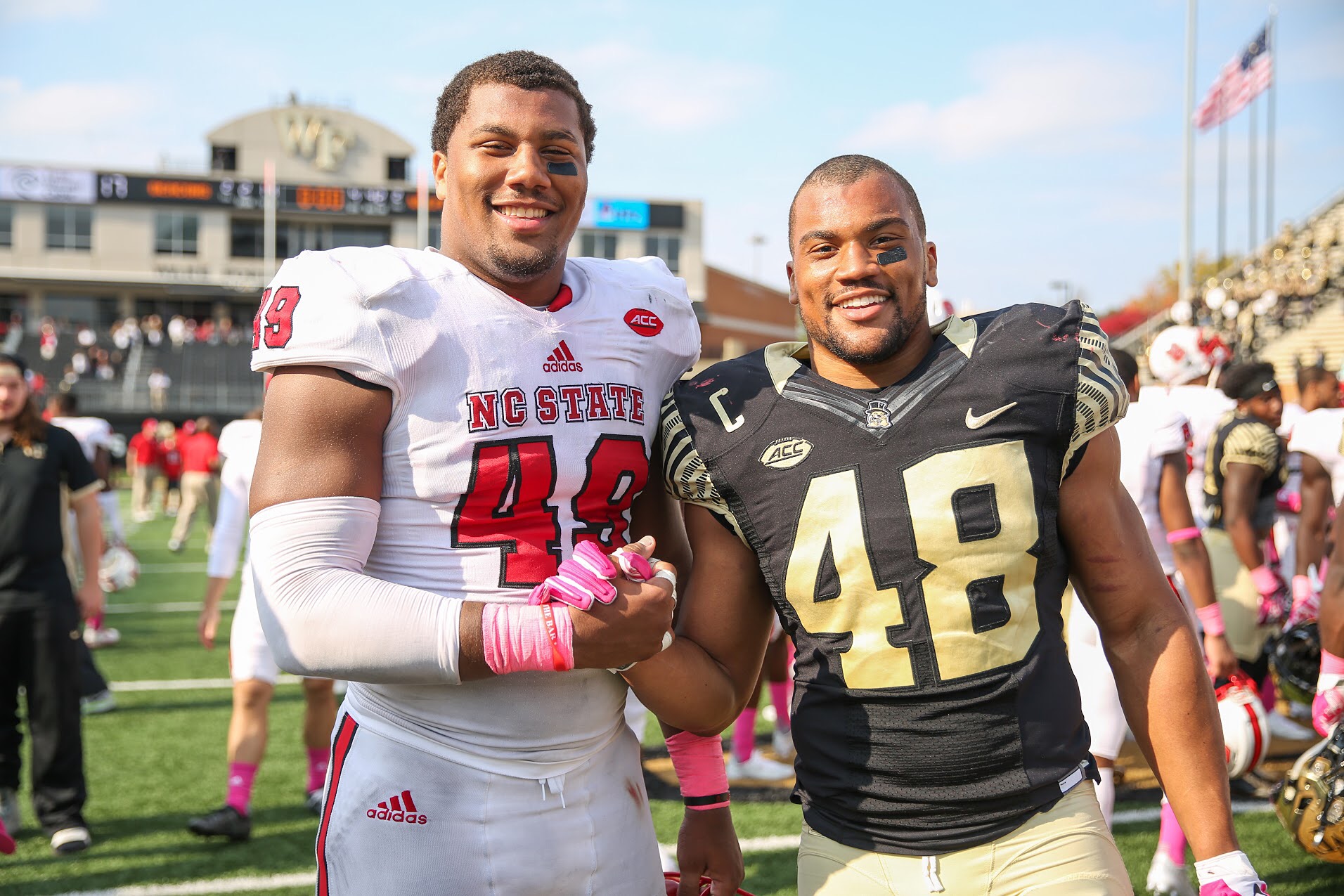 The Beginning...
The Chubb Foundation was founded by two brothers, Brandon and Bradley Chubb. The brothers grew up in Marietta, Ga with their two parents, Aaron and Stacey Chubb. From a young age, Brandon and Bradley were introduced to football, and sports alike. Their father, Aaron was an All-Region athlete at Rockmart High School a defensive standout with the University of Georgia Bulldogs, and was drafted in the NFL by the New England Patriots. The boys wanted nothing more than to be like their father and follow in his footsteps. Their mother Stacey is an athlete too as she has competed, and still does, in numerous marathons, half-marathons, and triathlons. There was nothing short of competition in the Chubb household. Stacey also volunteers for a non-profit organization called Back on My Feet, that helps people literally get back on their feet after unfortunate circumstances, where she was "Volunteer of the Year" in 2016.
Brandon Chubb
Brandon has a background in philanthropy as he volunteered every Sunday in college with an organization called H.O.P.E, Help our People Eat. His service with this organization started as an hobby and quickly grew into a passion, as he was present every Sunday during the school year and summer to hand out meals to the youth of impoverished communities in Winston-Salem, NC.
Bradley chubb
Bradley followed suit in his time at NC State, volunteering for toys for tots, Wake Medical Children's Hospital numerous times, and the Veteran's hospital.
October 21, 2017 Bobby Dodd Stadium Atlanta, GA
The Chubb Foundation prides itself in providing opportunities for the youth within the Atlanta communities. For our first event we reached out to Ms. Jade Rodgers, a childhood friend of the Chubb brothers and teacher at Barack H. Obama Elementary Magnet School of Technology, to see how we could involve ourselves with the youth in the Atlanta public schools. From this, the Chubb Foundation sponsored five children, from Ms. Rodger's classroom, for a trip to the Georgia Tech vs Wake Forest football game held at Bobby Dodd Stadium. The merit in which these children were selected were based off of a few things. The children were selected based on good behavior in school, good grades or signs of improvement in the classroom, and respect toward their teacher and administration. Transportation was provided to and from the stadium along with a lunch provided by Otters Chicken. Pregame field passes and tickets to the game were also included along with a "Chubb Foundation" t-shirt to wear to the game.
http://magazine.wfu.edu/2017/10/19/brandon-chubbs-15-birthday-gift/
Summer, Annual @ mercedes benz stadium
The Chubb Foundation Football Camp kicks off every summer at the Mercedes Benz Stadium in Atlanta, Ga. The Chubb Foundation partners with organizations like: Big Brothers Big Sisters of Metro Atlanta, 100 Black Men of South Metro Atlanta, and Active Youth Academy, to provide the talent and resources for middle school and high school students in the metro Atlanta area, to participate and support this event. The camp is free of charge to the students. Multiple NFL and collegiate football players will be on hand to instruct and coach the participants.
Our mission as a foundation is to use our sports platform to activate human potential; this camp does just that. Participants will be provided with on-field instruction, coaching, and competition to better their technique. Not only will they be coached on the field but off the field also. The camp will conclude with a group Q & A with the coaches of the camp, where they will hear multiple players speak and then be able to ask questions.
Our goal for each camper is to leave the camp with more skill of the game and knowledge of the game, than they came in with and also a better sense of confidence and direction for their daily lives. Each participant will also leave the camp with a bag, supplies, and a lunch provided by Chick-fil-A.
Moving The needle: Effecting change through entrepreneurship
January - March 2019, Atlanta, GA
The mission of the Chubb Foundation is to activate human potential. Whether it's coaching a camper's efforts on the field or challenging a student in the classroom. From the early stages of the foundation, Brandon and Bradley knew they wanted to come up with solutions to problems their communities faced, but it wasn't until a thought-provoking conversation with a mentor that sparked the inception of the "Moving The Needle" program.
The Chubb brothers identified the lack of entrepreneurship (as a subject) taught in schools at a young age and made that their sole focus. "We believe entrepreneurship is so important at such a young age. We want to plant that seed early and better these kid's futures," Brandon Chubb said.
"Moving the Needle" is a 10 week program, with Active Youth Academy, with curriculum focused on entrepreneurship. Every Thursday a 25 student class with 10 and 11 year old students meet after school at Dobbs Elementary School. Students are provided a book, with curriculum, to follow throughout the program.
At the end of the 10 weeks, students pitched to businessmen and businesswomen in a "Shark Tank" inspired presentation with a product they had been working on over the course of the ten weeks. The Pitch Night is held at The Gathering Spot in downtown Atlanta.
Make a difference...
Donate today to help us bring mentorship, hope and love to those who need someone to believe in them. 100% of your gift will go directly toward developing human potential!
We appreciate your interest in the Chubb Foundation. We are always looking for ways to get more people involved. If you have any questions, concerns, or interests please contact us below and our team will reach out to you.